Below You find a few of the Laborers designs available for embroidery on Carhartt
products. We only embroider on what we sell and prefer to only embroider union designs
onto Union Made in USA Products. For info on custom embroidery or changing any of the
designs to a different local number please contact us.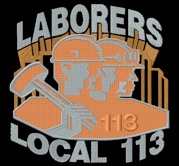 113 2 Men Back Design $75.00
Approximately 10"x10"
Choose the colors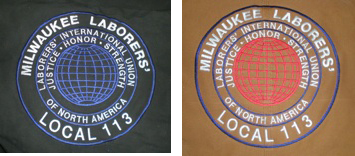 113 Back Design $30.00
Approximately 10" in diameter
Choose your colors for the globe, text and rings individually.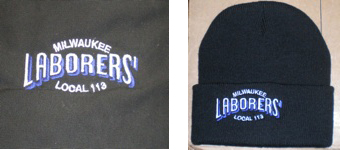 113 Front Design $10.00
Approximately
Choose your colors for text and shadow individually.
Also shown on hat- $15.00 for generic hat, starting at $17.00 on Carhartt hats.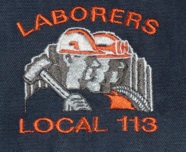 113 Front Design $15.00
Approximately 2.5"x3"
Change colors as shown
(example orange to red, dark grey to black etc.)