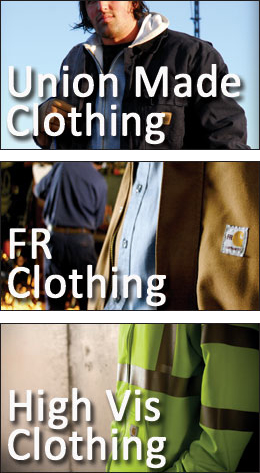 Experience, integrated with the importance of quality & union made in
America products has been the backbone of our company for 21 years. Our strong commitment in providing superior products and services with the state of the art technology allows us to to continue to provide quality and value in a timely manner.
We are the single source for all union art, union embroidery, union digitizing, union screen printing, union premiums, union apparel and union promotional advertising specialties. We offer thousands of customized promotional products. Our product knowledge and industry expertise coupled with the ability to access items to suit your needs quickly and efficiently sets us apart. We combine creativity and strong product knowledge with leading-edge technology to create and decorate our products. We are pleased to offer in house union products, union art, union embroidery, and union screen printing. Other union decorative applications are also available.
We are an official Carhartt distributor offering a full range of workwear
including high visibility, flame resistant, and of course the special union made in USA line of Carhartt that you won't find at your local big box hardware or sporting goods store. We also offer other special lines of workwear and high visibility clothing that are union made in the USA.